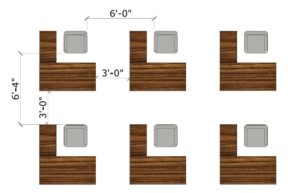 Is the open office dead?  Or just evolving?  One of our favorite interior design firms wrote a short article showing how an open office can easily meet a 6-foot separation for employees.  They also discuss other issues to help create a healthier office environment.  Enjoy:
The 6′ Office "Spread": Crafting a Healthier Work Environment
COVID-19 has brought about the need for significant changes in the workplace. Whether offices open in phases with reduced occupancies or everyone goes back at once, almost all office buildings and offices will need to address their current office density and embrace the following:
Better Indoor Air Quality
Use of Anti-microbial and/or easy to clean finishes
One-way Circulation and shifting foot traffic flow
New open office layouts that address the 6' distance recommendations
New sanitizing capabilities including hands-free/sensor technology
Enhanced cleaning protocols
Health Screening Procedures
Increased Use of Signage to communicate health directives
JCI has been hosting virtual meetings for years now, long before COVID-19.  Virtual meetings not only keep us safe from the spread of germs, but they also:
Save time, which saves money
Reduces our carbon footprint (saves gas, energy, and paper)
Easily share files and presentations
Allows real-time changes to plans while in the meeting
Encourages collaboration
~Jones Commercial Interiors; 972-690-3400; www.ajci.com
Bob Gibbons is a Real Estate Advisor & Tenant Advocate with REATA Commercial Realty, Inc. which is a tenant advisory firm based in Plano, Texas. Bob serves companies in Plano, Frisco, McKinney, Allen, Richardson, Addison, Dallas and the surrounding areas and specializes in companies which lease or buy office and warehouse properties.